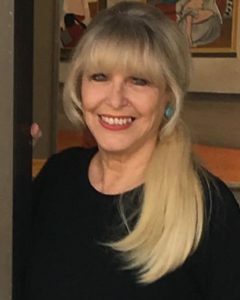 Devoted to the resplendent beauty of her surroundings, Jordan Pope paints the romantic light of Santa Barbara.
Jordan gives great care to the planning and execution of each painting whether it be the grand scale of the composition or the subtle nuance of a brush stroke. Jordan's paintings are recognized by the layers of emotional overtones of subdued color and the sumptuous quality of the surface. She is dedicated to creating a fine collection. This is her life's passion.
To celebrate her years of residing in Santa Barbara Jordan completed a suite of paintings entitled, "Twelve Months of Light," 2010-2014. Most of the works in the collection are done in a large format, designed to truly display the drama and grandeur of the scene. This painterly viewpoint and approach has made Jordan an artistic presence in Santa Barbara as well as California—it reflects the timeless romance of the region for future generations.
Jordan studied under New York Artist B. Mertching and is one of Santa Barbara's most influential artists and instructors, specializing in Southern California plein air painting and alla prima studio painting. Along with being featured on numerous Southern California magazine covers, she has shown her work in major national and international exhibitions. She has also exhibited in galleries throughout Washington, Oregon, and California.
Jordan exhibited at the Santa Barbara Historical Museum Auction, and at the Santa Barbara contemporary Arts Museum.  Jordan's painting have been included in the Oil Painters of America's National juried exhibition and the National America Impressionist Society exhibition. She is an Artist member of the California Art Club, Southern California Plein Air Painters, Oil Painters of America, and American Impressionist Society.
National Juried Exhibitions
California Gold Medal Show 2019
14th Annual Oil Painters of America
6th Annual American Impressions Society National Exhibition
West Coast Juried Exhibitions of California
"Quintessential California," Altadena Town & Country Club 2017
Special invitation, Flags Are Up Farm (sponsored by Seaside Gallery) 2017
Juried Western Art Show, Pismo Beach, CA 2016
Santa Barbara Museum of Art, Women's Board "Off The Wall" 2012
Museum of Natural History, Museum League Exhibition, Santa Barbara 2007-2015
Faulkner Gallery Show, Santa Barbara 2007
Primavera Art, Santa Barbara Contemporary Arts forum 2006
La Arcada Spring show (SCAPE) 2005
Plein Air art show, New Port Bay Conservancy 2004
Santa Barbara Historical Museum Auction 2003
California Art Club, Women's City Club, Pasadena 2003
Special Honors
Guest Artist at El Encanto, Santa Barbara April 2022
Artist Table, Natural History Museum of Santa Barbara 2019
Selected to be an Artist member of California Art Club 2018
"Paraiso De Oro" (60"x40") oil painting chosen for the permanent collection of Ridley Tree Cancer Center 2017
Voted Best Art Instructor by Montecito Magazine readers 2012
Painting "Last Light at Butterfly Beach" chosen for promotional materials for Art Walk, Montecito to benefit CALM 2002
Painting "Summer's Child" chosen and used on 2003 promotional materials for Art Walk, Montecito, to benefit CALM
Gallery Representation
Special exhibition, "The Cowboy and The Lady," Portico Gallery, Montecito, California 2017
Seaside Gallery, Pismo Beach Ca. 2015
Hilligoss Gallery, Chicago Il. 2005
Portico Gallery, Montecito, California 2001-present
Anne Adrienne Gallery, Federal Way, Washington 1993-2001
Unique Collections Created By The Artist
"Quiet Dreams and Reflections" Twelve master-sized paintings with a theme of reflections in water, 2015-2020
"Twelve Months of Light" (all sold) Twelve master-sized paintings of Santa Barbara's unique light 2010-2014
Publications
"Art for All," featured article, Montecito Magazine, Summer 2022
Cover art and featured article, Neighbors Magazine 2019
"Jordan Pope: Artistic Presence," Montecito Journal Glossy 2017
"Jordan Pope: Quiet Dreams and Reflections," Montecito Journal Glossy 2016
"Jordan Pope: Twelve Months of Light," Montecito Journal Glossy 2013
Art Connoisseur editorial 2008
Montecito Magazine, cover and editorial 2005
Southwest Art editorial 2004
Passport Magazine, cover and editorial 2004
Art graced the cover of Montecito Journal 2003
Organizations and Associations
Art Dealers Assoc. of Santa Barbara 2006-present
Southern California Painters for the Environment 2003-present
Oil Painters of America 2002-present
American Impressions Society 2002-present
California Art Club 2002-present
South Coast Plein Air Painters 2002-2012
Santa Barbara Visual Arts Alliance 2001-2006
Special Qualifications
Art Gallery owner and Curator for 30 years
Owner of the longest established gallery on Coast Village Road, Montecito, California (18 years)
Art Instructor teaching studio classes (30-40 students weekly), plus annual workshops in plein air, color mixing, and drawing.
In addition to curating and owning Portico Gallery, in 2020 Jordan opened "The Monet Room," a dedicated classroom studio in Montecito, California.
Samples of Jordan's Art