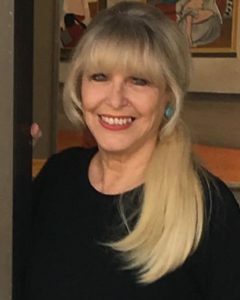 Devoted to the resplendent beauty of her surroundings, Jordan Pope paints the romantic light of Santa Barbara.
Jordan gives great care to the planning and execution of each painting whether it be the grand scale of the composition or the subtle nuance of a brush stroke. Jordan's paintings are recognized by the layers of emotional overtones of subdued color and the sumptuous quality of the surface. She is dedicated to creating a fine collection. This is her life's passion.
To celebrate her 12 years of residing in Santa Barbara Jordan recently completed a suite of paintings entitled, "Twelve Months of Light." Most of the works in the collection are done in a large format, designed to truly display the drama and grandeur of the scene. This painterly viewpoint and approach has made Jordan an artistic presence in Santa Barbara as well as California—it reflects the timeless romance of the region for future generations.
Jordan studied under New York Artist B. Mertching and is one of Santa Barbara's most influential artists and instructors, specializing in Southern California plein air painting and alla prima studio painting. Along with being featured on numerous Southern California magazine covers, she has shown her work in major national and international exhibitions. She has also exhibited in galleries throughout Washington, Oregon, and California.
Jordan exhibited at the Santa Barbara Historical Museum Auction, and at the Santa Barbara contemporary Arts Museum.  Jordan's painting have been included in the Oil Painters of America's National juried exhibition and the National America Impressionist Society exhibition. She is a member of the California Art Club, Southern California Plein Air Painters, Oil Painters of America, and American Impressionist Society.
Samples of Jordan's Art